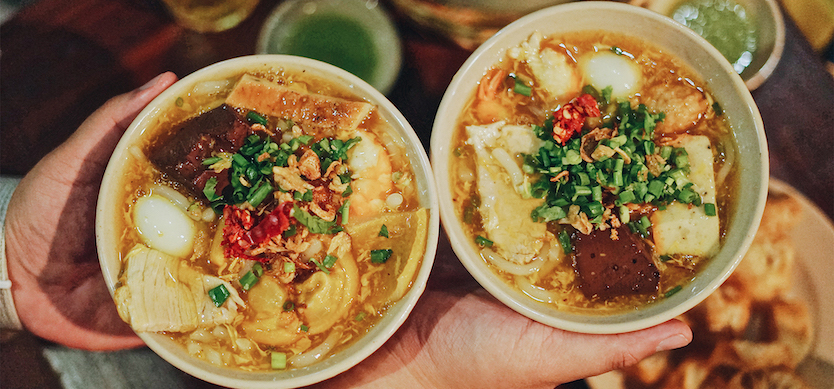 Besides the beautiful scenery and unique culture, Vietnamese cuisine always brings an interesting experience for international friends. If you come to Vietnam, you should not miss the opportunity to enjoy the delicious food here.
However, not all dishes are suitable for the taste of visitors, especially foreign tourists such as dog meat, sea snails, or "thang co" (horse meat soup cooked with offal and pork), etc.
In fact, there has been a series of dishes that impress and conquer many foreign visitors from the first time to enjoy. So, you will not have to worry that you may order the inappropriate dishes. And this article will guide you through the most famous Vietnam food for travelers.
Pho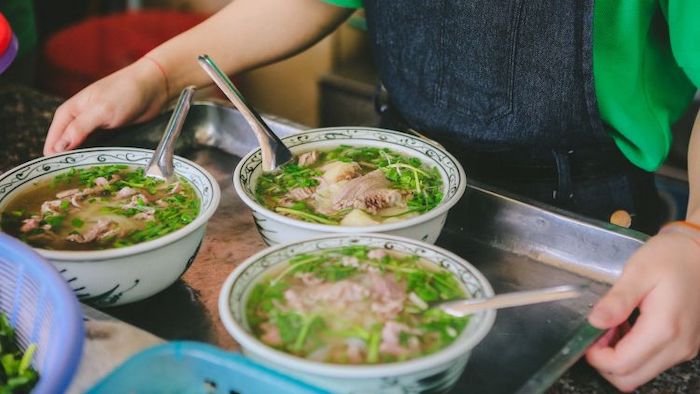 Pho Vietnam
Pho was once commented by CNN (USA) as a "pillar dish" of Vietnamese cuisine and appeared in the list of 50 most delicious courses in the world. The dish is a delicate blend of broth, noodles made from rice flour, green onion, and beef or chicken.
Andrew and Steven, two speakers on the famous BuzzFeedVideo channel in the US, expressed their excitement when enjoying the traditional taste of Vietnam for the first time. Foreign guests also share: "I want to eat pho at breakfast, lunch, dinner and can even enjoy every day."
Thick noodle soup with crabs
This dish conquers many diners at first sight because of its attractive colors, smoothness, and hotness. In addition to the rice flour and crabs peeled, the bowl of soup cake also has many topping like eggs, shrimp, mushrooms, herbs, etc.
Mark Wiens, a famous traveling and culinary blogger, was once excited to enjoy this famous dish in Ho Chi Minh City and crullers. In addition, this delicious flavor was also introduced in Episode 59 of the Korean Salty Tour program aired earlier this year. The crew members were not only satisfied with the deliciousness but also surprised at the affordable price of each bowl of crab soup.
Pancakes folded in half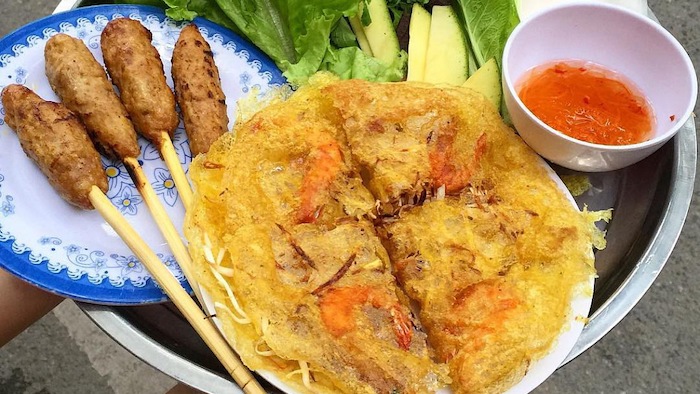 Pancakes folded in half
The pancakes appear in all three regions of North, Central, and South Vietnam with different ways of creating flavor variation. However, the cake is still characterized by yellow color and rich taste from cakes and pork. Diners enjoy the cake with raw vegetables dipped in chili garlic fish sauce.
British billionaire Joe Lewis once had an interesting experience making his own pancakes during his visit to Can Tho in May. A foreign tourist also shared on his personal account: "I attended a cooking class when coming to Hoi An and had a memorable moment with how to make pancakes folded in half. The unique flavor of the cake deserves a dish that contributes to the value of Vietnamese cuisine."
Banh cuon (Stuffed pancake)
Stuffed pancake is a dish with a long origin in Vietnam. The thin layer of rice paper cake is placed on the steamer with meat, wood ear mushrooms, and shiitake to create a dish with the national identity that attracts many foreign diners.
The story of Vietnamese stuffed pancake was shared by culinary expert Tejal Rao who praised it in the New York Times in June.
Banh mi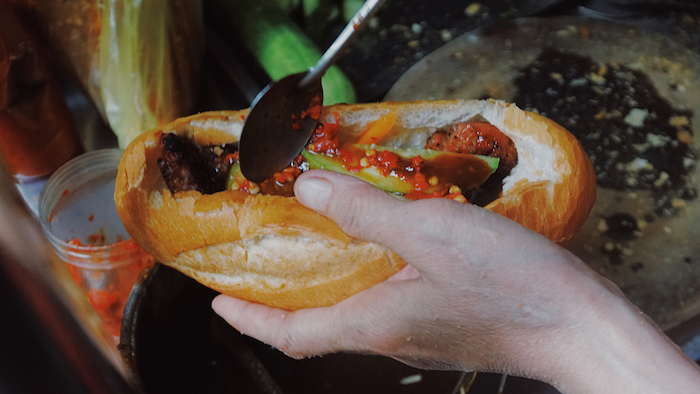 Banh mi Vietnam is very famous in the world
Banh mi is one of the most attractive street food in Vietnam and impresses international friends. You can find bread on sale everywhere. Many foreign diners have come to the famous Phuong bread restaurant in Hoi An and are willing to wait to enjoy the typical flavor of this dish.
Banh can (Mini-pancakes with meatball sauce)
This is a popular type of cake in the South Central region of Vietnam. The mix of rice flour and water is poured on a hot mold pan, featuring a crunchy crust blended with delicious quail eggs.
In February, Tiger guy, a vlogger from Sweden had a memorable culinary experience in Dalat with this dish. He also shared on his aHungryTiger channel: "The cake is not too salty or too sweet, and when eating, I dotted it with meatball sauce to make the cake absorbed the flavor of the soup. This is really a perfect combination."
Bun cha (Kebab rice noodle)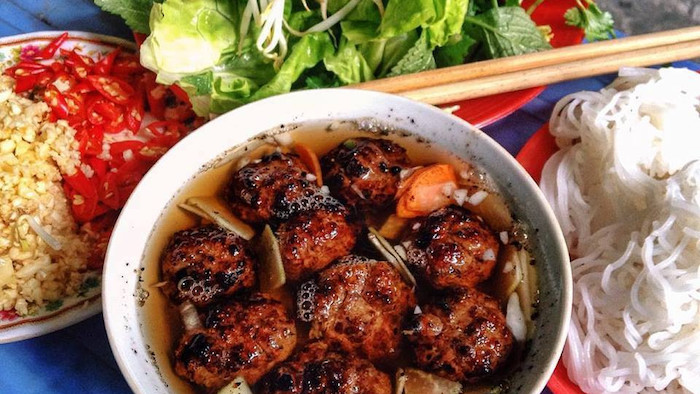 Bun cha
Kebab rice noodle is a famous specialty of the capital of Hanoi. The food is not only appreciated in the country but also reaching out to the world.
In Hanoi, it is not difficult for tourists to find a "bun cha" restaurant right on the streets. From simple ingredients including marinated meat grilled on charcoal, vermicelli noodles, raw vegetables, and garlic chili sauce, this flavor has caught the heart of many foreign visitors to Vietnam.
Hopefully, with the dishes that have been widely recommended by many visitors to Vietnam, your trip will be memorable and interesting. For further information, don't hesitate to contact us or visit our website. Please like and share the article with others if you find it useful. Thank you.