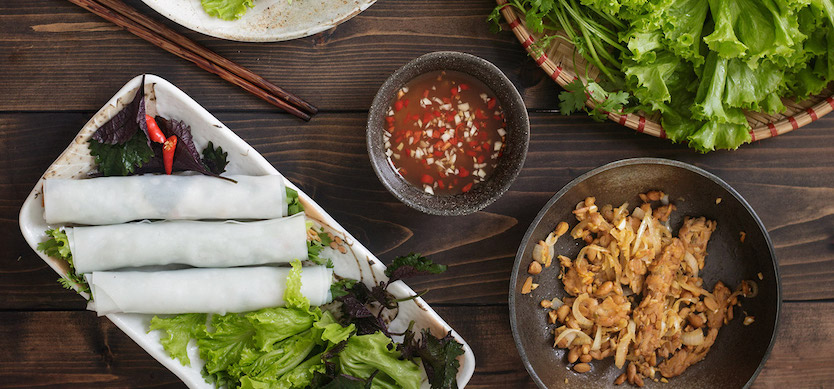 Hanoi is the capital of Vietnam, famous for its long history and peaceful old town in the heart of the modern and bustling city.
However, there is another factor that attracts tourists more than those attractions. It is the rich and unique Hanoi cuisine. The dishes here are elegant but no less charming and colorful. So, if you have the opportunity to travel to Hanoi, do not miss a food tour here.
What if you travel on your own?
Do not worry, because, in this article, we will take you to the top 9 delicious dishes you must try in Hanoi.
Pho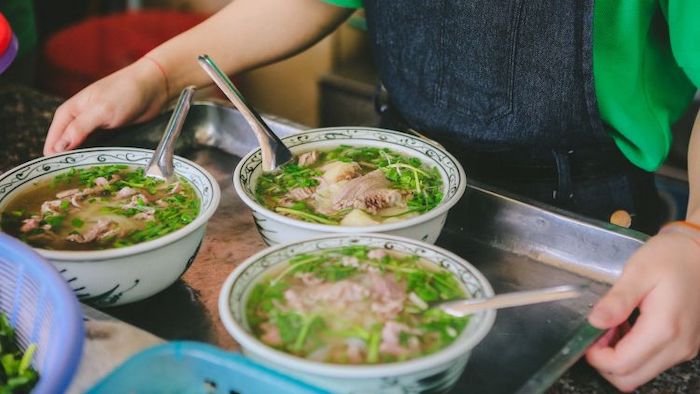 Pho Hanoi
Holding a hot bowl of pho, slurping the delicious broth, eaters are brought a lot of emotions when coming to Hanoi. Thin, tough, soft pho yarns are mixed with thinly medium-rare ​​beef, then added some green onion, lemon, and chili. Whether the pho is delicious or not depends on different traditional ways of cooking at each Pho restaurant.
Travelers can visit the famous Hanoi pho restaurants such as Pho Suong in Dinh Liet street, Pho Ly Quoc Su at the end of Nha Chung street, Pho Bat Dan, Pho Thin, etc.
Ngu Xa rolled pho
Referring to the rolled pho, the Hanoians immediately think of Ngu Xa, a small street hidden behind Truc Bach Lake. Thin but not crushed pho slices roll with fried beef and raw vegetables. You can eat them with sweet and sour fish sauce, adding a few slices of fresh curettage papaya. A dish of 9 rolled pho costs about VND 50,000.
Besides, the restaurant also has Inflated-fried Pho covered with stir-fried beef, choy sum, and some pepper. A crispy piece of pho bread, vegetables mixed with fragrant, soft beef, all make a delicious harmony. Let's visit the famous rolled pho restaurants in Ngu Xa such as Hung Ben, Huong Mai, etc.
Banh duc (Rice cake made of rice flour and lime water)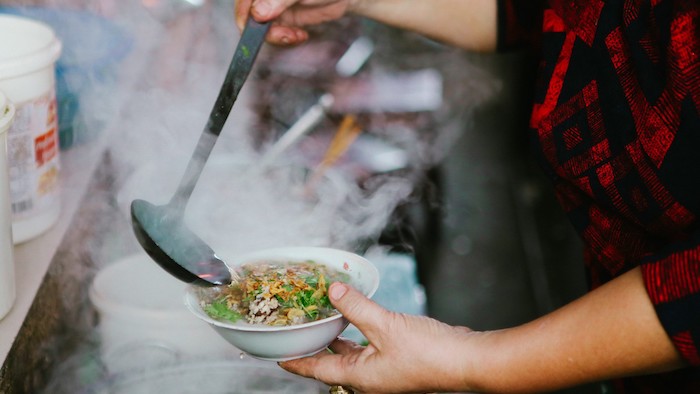 Banh duc is very ideal to try in the cold winter
On Le Ngoc Han street, there is a traditional 30-year "banh duc" restaurant. This eatery is located in a narrow alley but a lot of people come and enjoy it. The hot dish is made with minced meat, wood ear mushroom, aromatic fried onion, then added a few pieces of crispy fried tofu and herbs. A bowl of "banh duc" costs VND 15,000.
Bun thang (Vermicelli and chicken soup)
"Bun thang" is a traditional dish of ancient Hanoi people. Noodle bowl has a perfect small size, and the ingredients are quite picky with small noodle yarns, chicken, fried eggs, and shiitake mushrooms. The clear, sweet and fragrant broth is cooked from chicken or shrimp bones. This dish costs VND 50,000-60,000.
Bun cha (Kebab rice noodles)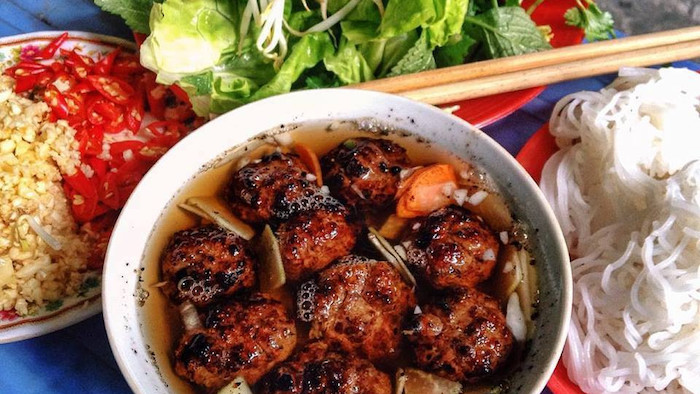 Kebab rice noodles
This is the dish that the US President Brack Obama used to make dinner when he came to Vietnam in 2016. The bowl of "bun cha" consists of golden grilled pork, pieces of papaya melon served with noodles and raw vegetables. The delicious, savory dish has a sweet and sour taste of the fish sauce and a refreshing taste of vegetables. This dish costs VND 40,000.
Trang Tien ice-cream
Whether enjoying it in the winter or summer, you will love and get impressed with the unforgettable taste of this street food. When you eat, you will feel the fresh, creamy taste that is melt in your mouth. The waffle cone is fragrant and crunchy. A Trang Tien ice cream costs VND 12,000.
Hanoi green rice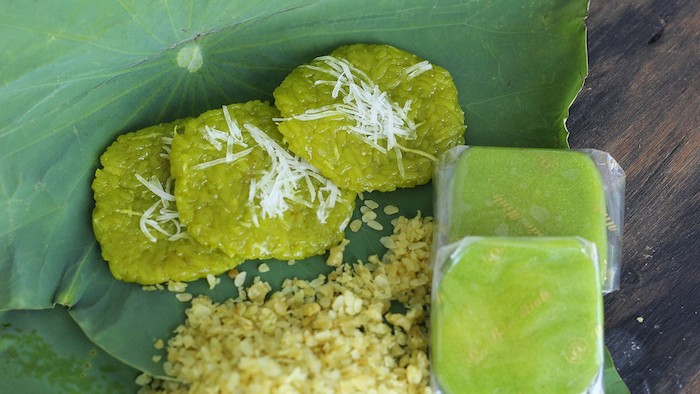 Hanoi green rice cake
This is a hometown gift reminiscent of childhood, bringing the beauty of Hanoi cuisine. The flat and fragrant green rice is carefully wrapped in lotus leaves that can be processed into sweet soup, fried meatballs, sticky rice, etc. The best green rice in Hanoi is from Me Tri and Vong village.
Gam Cau grilled black pudding
Referring to barbecue, diners will think of grilled beef, grilled black pudding in Gam Cau street. It is a street running along the foot of the Long Bien bridge. The dish is beautifully decorated with vegetables surrounding the meat marinated with flavor.
You put the ingredients in a pan and add some butter. The meat is grilled fragrantly and attractively. Grilled cow udder is crispy and sweet, served with hot, crunchy honey butter bread.
Xoi (Sticky rice)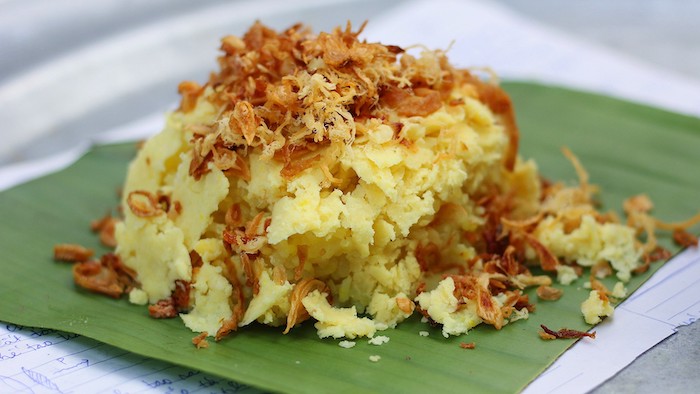 Xoi xeo
Sticky rice is a familiar breakfast of Hanoi people, becoming a typical dish of the capital. In the early morning, on every street, you can meet the women selling sticky rice on the sidewalk. Stopping the bike to enjoy an aromatic hot sticky rice bowl served with crispy onions will make you feel warm. There are many types of sticky rice to choose from such as "xoi xeo" (characterized by a mung bean layer with oil and dried onion spread on top), green bean sticky rice, peanut sticky rice, Chinese sausage sticky rice, etc.
Hanoi not only has many beautiful landscapes but from the old-time, the capital of Thang Long has been famous for the rich and unique culinary quintessence, attracting many visitors to enjoy. If you love the place, don't hesitate to like and share the article with others. For further information, feel free to contact us or visit our website. Thank you.